Welcome
EnBW and bp are proud to be leading the development of the Morgan and Mona – two offshore wind farms in the Irish Sea. These projects are helping to achieve the UK's ambition of generating 50GW of power from offshore wind by 2030.
Here you can find the latest updates about the two projects.
Mona
Our first two stages of consultation for Mona have now closed. Thank you to everyone who took part and provided feedback about the proposals so far.
We are now carefully considering all of the feedback we received, alongside further technical work and environmental assessments. We'll provide further updates as our work progresses, ahead of further consultation in the first part of 2023.
You can find out more about the proposals:
Downloads – download and view our project materials, and the video of our stage one consultation webinar
Morgan
Our first stage of consultation for Morgan is now open for feedback until December 13th 2022. As part of the consultation, we are holding a series of public events. These are a great way to meet our team, find out about the projects and ask any questions you might have.
To find out more about these events or leave feedback you can: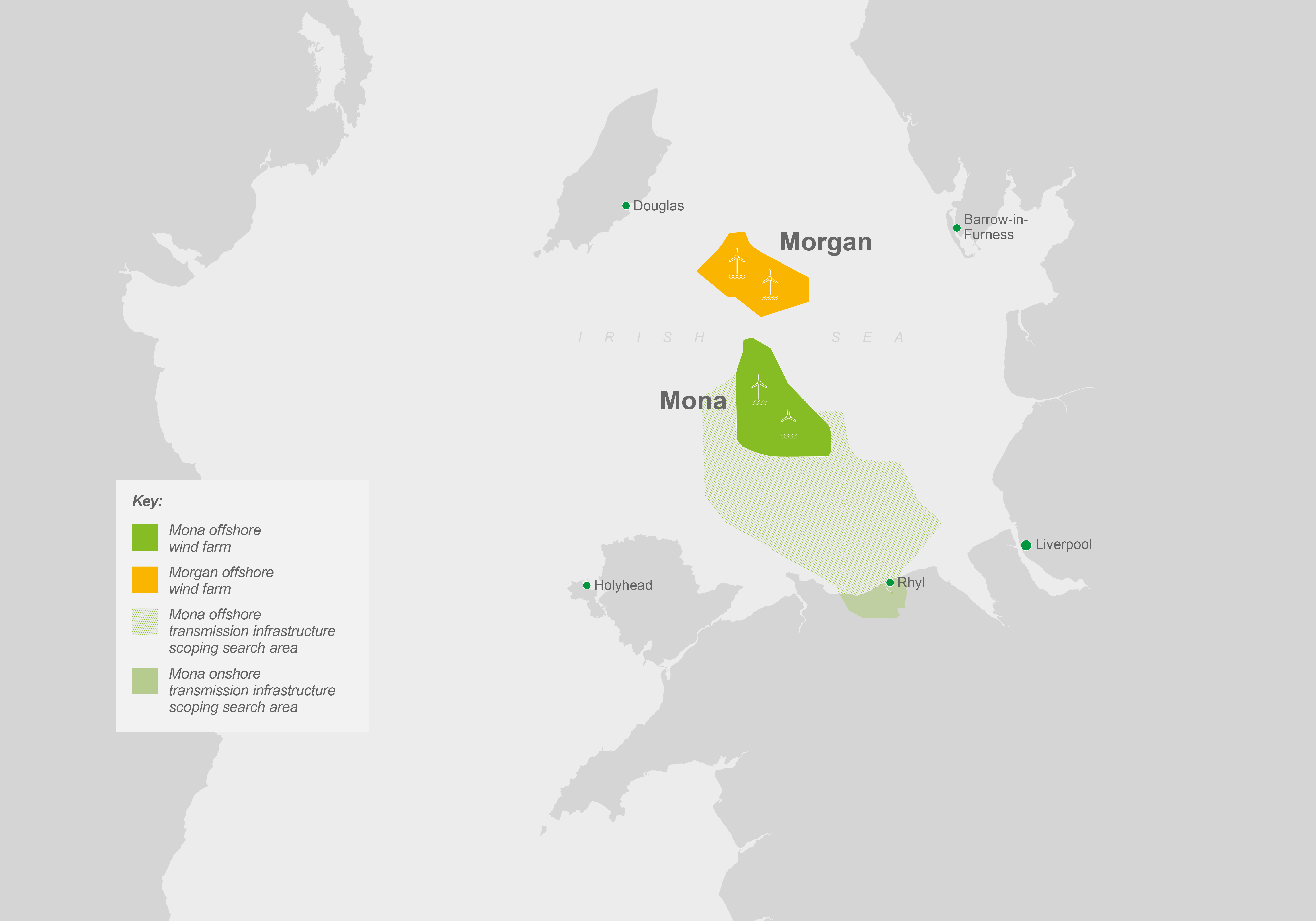 Click image to enlarge
Pinch to zoom
Indicative map showing the Mona wind farm and offshore and onshore scoping search areas.
Who are EnBW and bp?
About EnBW
EnBW Energie Baden-Württemberg is one of the largest energy supply companies in Germany and supplies electricity, gas, water, and energy solutions and energy industry services to around 5.5 million customers.
We have a workforce of more than 23,000 employees. Half of the EnBW generation portfolio will be comprised of renewable energies by 2025.
Further expanding renewables in Germany and selected European markets is a central element of EnBW's growth strategy. Since the beginning of its corporate transformation in 2013, EnBW has successfully invested nearly €5 billion in its renewable energies segment. Around another €4 billion is to be invested by 2025, primarily in further expanding wind and solar energy, meaning that a good 50% of EnBW's generation portfolio will consist of renewables.
EnBW was among the pioneers in offshore wind power with its Baltic 1 offshore wind farm in the Baltic Sea. In January 2020, the company took into operation Germany's largest offshore wind power project, EnBW Hohe See and Albatros, with a combined capacity of 609 megawatts.
The He Dreiht offshore wind farm with a capacity of around 900 megawatts will be connected to the grid in 2025. He Dreiht will operate without any state subsidies.
Visit EnBW's website for more information
About bp
bp's purpose is to reimagine energy for people and our planet.
bp has set out an ambition to be a net zero company by 2050, or sooner, and help the world get to net zero. We recently announced our strategy for delivering on that ambition. This strategy will see bp transform from an international oil company producing resources – to an integrated energy company providing solutions to customers.
bp already has a significant onshore wind business in the US with a gross generating capacity of 1.7GW, operating nine wind assets across the country.
Visit bp's website for more information
Visualisations
The size, number and positioning of our turbines have yet to be decided. But at this early stage we've created indicative 3D visualisations to show potential views of the Mona and Morgan wind farms from a range of onshore locations.
View map