Mona
To construct, operate and maintain Mona, we'll need a combination of offshore and onshore infrastructure.
Key:
Scoping search area - that informed our early development work to identify cable routes and potential substation locations
Onshore substation search area - within which we could locate a new substation.
300m wide cable corridor search areas - within which our underground cables could be routed.
Bodelwyddan Substation (National Grid)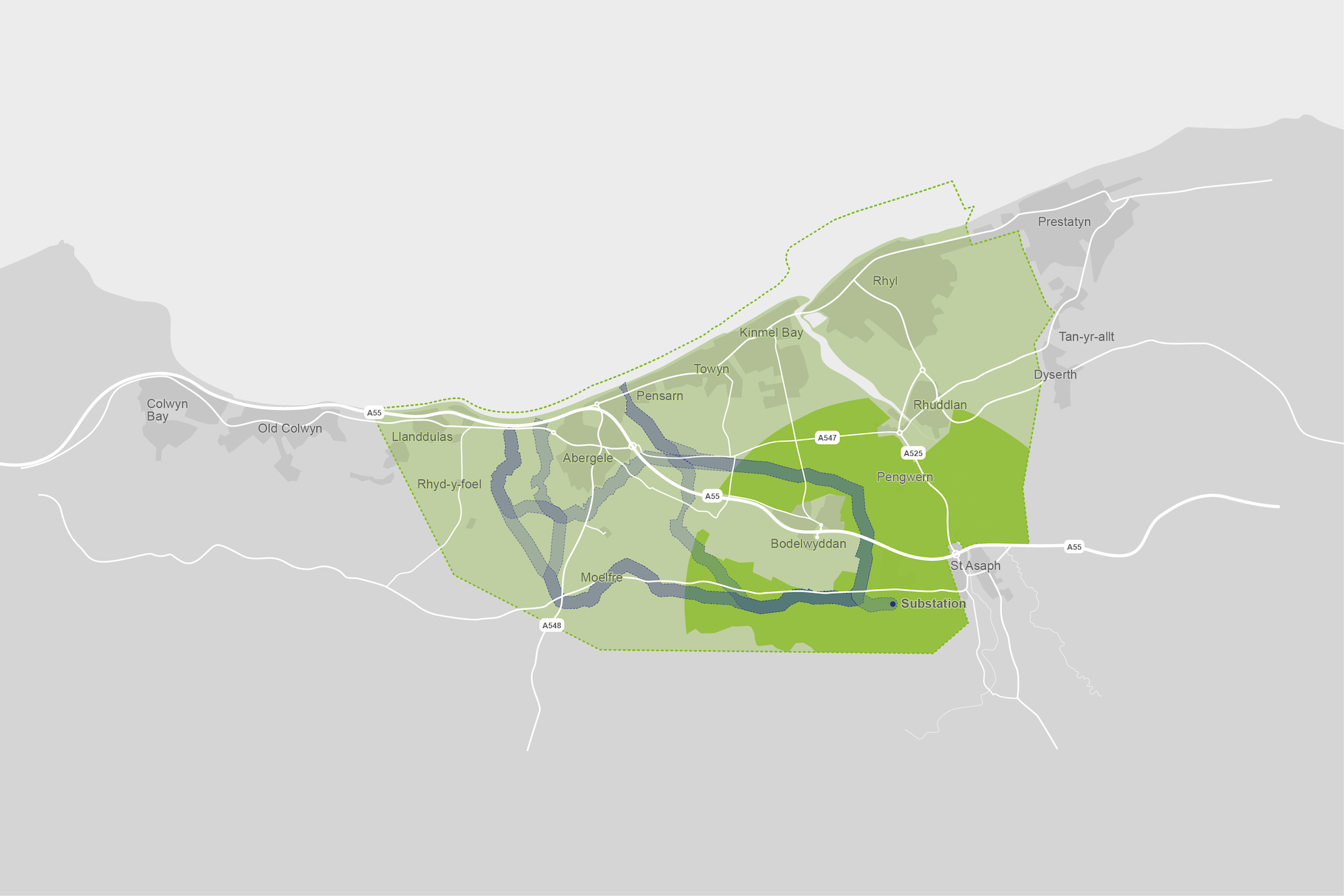 Click image to enlarge
Pinch to zoom
Indicative map showing the Onshore Transmission Infrastructure Scoping Search Area and Bodelwyddan substation.
Our onshore infrastructure
Our onshore infrastructure will take electricity from a landfall point (where the offshore cables reach the shore) to the 'national grid'. To do this, we'll need to construct infrastructure including underground cables and a new onshore substation.
The point of interconnection (POI)
The Mona offshore wind farm is expected to connect to the 'national grid' at a substation near Bodelwyddan in Denbighshire.
This is known as the point of interconnection (POI) and was identified through a rigorous site selection process undertaken by National Grid, which manages the electricity transmission network.
The onshore substation
To connect to the electricity transmission network we will need to construct a new onshore substation, situated close to the existing Bodelwyddan substation.
Were not yet at a point where we have a detailed design for the substation, but typically the area we will need is approximately 125,000m2, which is equivalent to around 12 football pitches. It would include electrical equipment and be surrounded by a fence. Screening for substations can typically be achieved through landscaping or planting.
As part of our early work, we have identified a search area for the new onshore substation. At this stage of our project, this is a broad area within which the new substation will be located (see map above). We will try to locate the substation as sensitively as possible. For example, we will consider the proximity of homes when assessing possible sites for our substation.
More details of the proposed substation will be available at future consultations.
As part of this consultation, we'd like you to tell us anything that could help us choose a preferred location for the substation, as well as a detailed design for it.
How do we choose a cable route?
Choosing a cable route for our onshore underground cable is a complex task and we need to take into account a lot of different factors to make sure our proposals represent the best possible route for the project and local communities.
For example, first we need to identify and evaluate what are known as 'constraints'. These are areas we need to avoid, perhaps because it wouldn't be technically feasible to install a cable at that location or because there's already something there that we would need to avoid.
An example of an onshore constraint could be a large urban area or a feature of environmental interest. Our experts are taking all this into consideration to help narrow down the best routes and avoid unsuitable areas.
For our project, we're also using guidance issued by important specialist organisations that provide us with further advice on what needs to be considered when planning a cable route. These include The Crown Estate Cable Route Protocol as well as similar resources from bodies such as Natural Resources Wales.
As responsible developers, we are committed to designing cable routes with the best interests of our host communities in mind. This means that we don't propose cable routes that would cause undue inconvenience to local people. For example, as far as possible, our teams have looked for routes that don't cross roads, railways or footpaths and that avoid urban areas.
Section complete
Use the form below to update your answers for this section.
Feedback unavailable
Your browser is set to disallow 3rd party cookies which are required for this feedback form to work correctly. Please disable private browsing in your browser or contact us for support.