Supporting the local, regional and national economy
Our proposals for Morgan and Mona will unlock significant economic benefits, both in terms of the jobs we will create and the supply chain opportunities that will be on offer for businesses across the UK.
Jobs
As we develop our plans in more detail, the scale of this economic boost will become clearer – but we already know that we will create and support approximately 3,420 jobs in total during the different phases of our project. This breaks down to: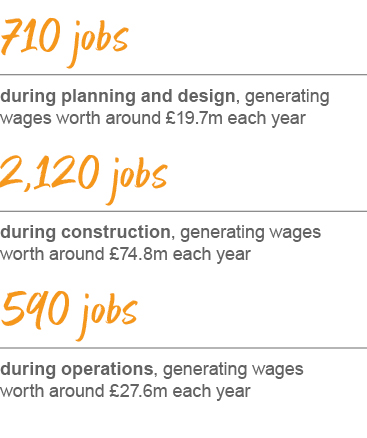 Supply chain
We know that offshore wind projects bring significant benefits to their local communities and we think it's incredibly important the local supply chain contributes to this project too.
We have launched a dedicated supplier portal where local companies can pair their skills with the projects' needs. The portal provides access for companies of all sizes to register their interest for future work.
The project is encouraging UK-based suppliers to register their interest at www.enbw-bp.com/suppliers particularly those with connections across North Wales and the north west of England.
Ports and harbours
We are engaging with ports and harbours around the Irish Sea that could support construction activities and then eventually operations and maintenance for the wind farms.
Public consultation
26 September to 7 November 2022
Find out more about what we're consulting on and how you can take part.
Consultation
Downloads
Download and view our consultation materials.
View downloads